I came to Israel, not knowing what to expect. We landed at 8:40 pm in Tel Aviv, where we would take a bus to Nazareth, where our hotel is located. I also got to try my first taste of Israeli Schnitzel, which had an interesting flavor.
We went straight to bed, to wake up 7 hours later for breakfast. Breakfast was interesting; I had some type of orange juice, that wasn't really orange juice, it was more like an orange flavored drink. I also had eggs, and cereal. We then had a little orientation, and got to know my group. At orientation we randomly picked a colored Mento. There were four colors, I picked up yellow. If you picked up yellow, you had to talk about your worst date. I did just that, and then we headed for the bus. The bus took us to the Golan Heights, where we went on top of the mountain.
We saw Syria, and had brief history about the Six Day War, and the Yom Kippur War. We also learned why it was important for Israel to always have the Golan Heights.
After that we headed to lunch, where I had the opportunity of eating Israeli pizza; I wouldn't recommend it to a friend. After, we went on a hiking trail which probably was the highlight of the day. This was no ordinary Florida hiking trail, where the trail is usually straight and smooth. This trail consisted of climbing, running, and of course falling. In the trail we would experience steep rocks, climbs, and waterfalls. I also had my share of injuries, including scraping both knees.
Eventually we would end up in a pool of freezing water, where the waterfall ended. We ended up taking a dip in the water, even though Israeli law outlawed swimming in the water. After getting out of the freezing water, we hiked back up to the top of the mountain. This was the hardest part, and found myself struggling to get back to the bus.
On the way back to the hotel we stopped at the Tiberius reservoir, which is the main water source for Israel. We would stop there for an hour, where I tried a kosher McDonalds, and just like the McDonalds; just like Israeli Pizza, I would not recommend it to a friend.
We got back to the hotel, and called it a night. I did so much in one day, and already made many lifelong friends, I look forward to another nine, amazing, adventurous days!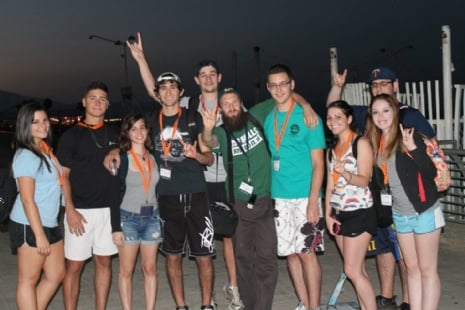 by Michael Kalmowicz from Chabad at the University of South Florida, http://www.usfchabad.com